" The Bolongo Bay Beach Resort has used Reservhotel as our booking engine on our website for a few years now and are very happy with the results. Guests look for a one stop shop where they can book packages including hotel + air + trip insurance, and Reservhotel have allowed us to offer that on our website. Guests can also book room amenities on line. "
Katarina Doumeng Director of Sales & Marketing
Bolongo Bay Beach Resort
St. Thomas USVI
Customized Reports
For Air & Hotel Packages
While most reports in the travel industry are for rooms only, we introduce air & hotel competitive reports. The reports are made especially for resorts who want to monitor their pricing with all contracted channels as well as their competitors, both at their own websites and at the channel portals
Major OTAs and
Tour Operators
Hotels have the option of choosing 5 or more competitors and up to 8 OTAs or tour operators. Current available channels include: Orbitz, Travelocity, Expedia, Bookit.com, Cheapcaribbean.com, Apple Vacations, Funjet, Travel Impressions, GoGo Vacations, Best Day.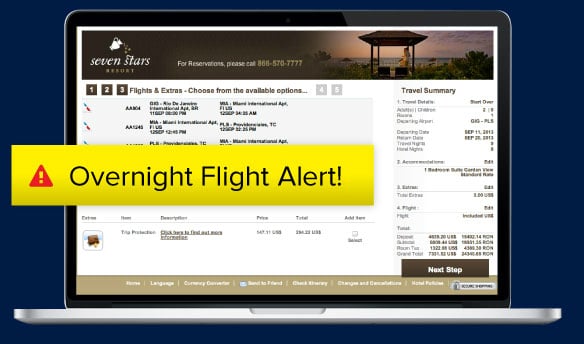 Flight overnight alerts
Some OTAs show flights that require an overnight connection with your hotel destination. These packages sell for less since the client will shorten the stay at your hotel and have to pay an additional night at the intermediate stop (usually an airport hotel). A flight overnight alert will be displayed on the report so your property is well informed and can compare pricing accordingly.
Positioning Report
OTAs are constantly playing with your ranking - don't you want to know if that special promotion you gave them is really putting you on the first page like they said you would be?
Some of our happy customers